Ways to Wear an Infinity Scarf
A scarf is a classy and popular accessory lately, and something I love adding to my wardrobe!
A simple scarf can be layered in to so many outfits, and these days infinity scarves are so popular. There are so many possibilities of prints and colours, and besides that there are many different ways to wear these scarves!
I've rounded up a few of the best ones for you here!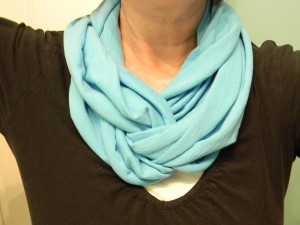 6 ways to wear an infinity scarf via Organize and Decorate Everything
(I love this style pictured, plus she also shows how she made this scarf from an old t-shirt!)
Here are some outfits I pinned that I've personally been wearing. I found many of these pieces or something similar in my wardrobe without have to purchase anything. These just gave me some ideas for how to put pieces together! And of course, layer a scarf over everything. :)
via
(I use a white infinity scarf for this outfit!)
Of course, I use the scarves that are sold in
my Etsy shop
. Shameless self-promotion right there! :)
Which of these styles has inspired you? Are there pieces in your closet that you might be able to re-imagine in a new outfit? Which scarf would complete these outfits for you?
If you like any of these styles, please respect the bloggers referenced by pinning these images directly from their site. Thanks!